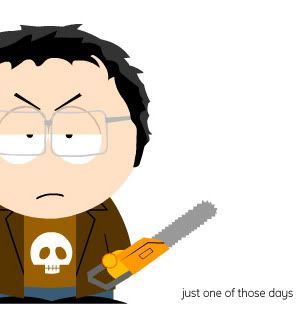 every week will arrive with the most unbearable day, that is called - Monday.
Poor lil Monday... what have you done to deserve such 'blues'?
but life is not fair, and you're the one who had to take the blame-chair.
tsk..tsk.. but who cares?
we still hate Monday!~ =P
Lagu Negeri
Berkatlah Yang Dipertuan Besar
Kasihi rakyat lanjutkan umur
Akan berkati sekelian yang sedia
Berkatlah Yang Dipertuan Besar Negeri Sembilan
*sila nyanyi lagu negeri di tempat keja/blaja masing2, warming up untuk sekelian rakyat jelata pada pagi isnin*!
Lagu Negaraku
نڬاراكو
تانه تومڤهڽ دارهكو
رعيت هيدوڤ
برساتو دان ماجو
رحمة بهاڬيا
توهن كورنياكن
راج كيت
سلامت برتختا
رحمة بهاڬيا
توهن كورنياكن
راج كيت
sila nyanyi cepattttt.....
okey who hates waking up early in the morning after a bliss sunday, please raise your hand and say "I"..~